Main photo: Josefine Laul
If there is somebody that knows where to dine, drink or have breakfast or brunch in Stockholm then Rebecca Brage knows all of the juicy spots, which she shares through her site sthlmfood.com and @stockholmfood on Instagram. Even though her interest in food started as a replacement for other craving habits – those craving habits shows to must have been really strong.
In this interview with Rebecca we will talk about what she is longing for the most, her best experiences when eating out and early food memories. Let's say hi to one of the most prominent foodies in Stockholm!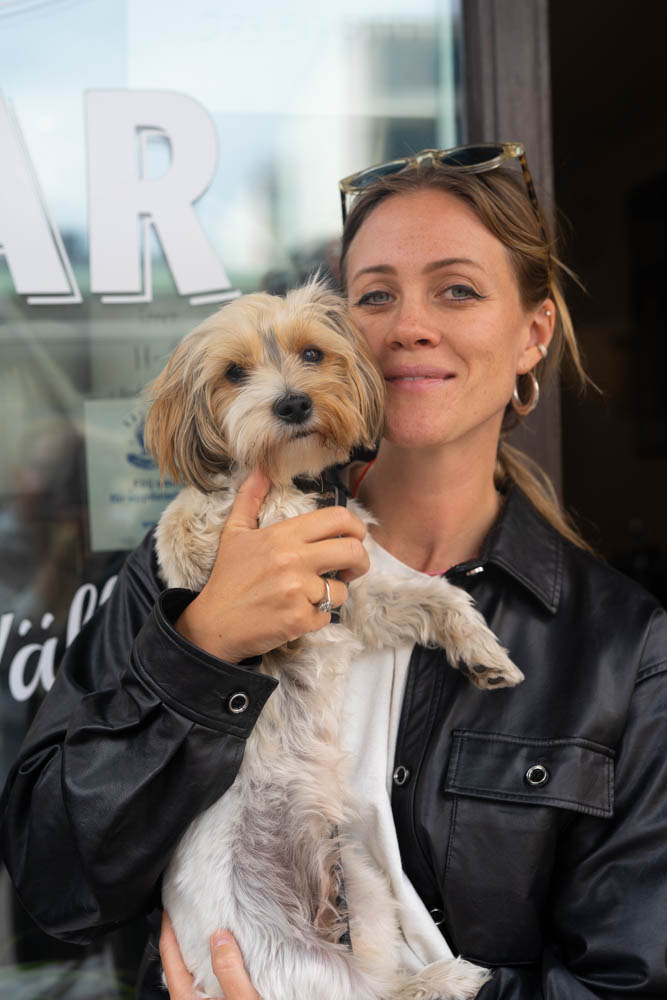 How did you get an interest in food and sharing content about it?
It started 9 years ago when I quit smoking. I didn't have an interest in food before that, more than that I liked to eat. My cigarette-cravings turned into food cravings, and I started to think about food and what to eat all the time!
What is the earliest memory of food you can remember?
My father cooked a lot and my earliest memories must likely be from some of his meals. Like potato cake with smoked salmon, sour cream together with a slice of lemon. I still love it!
How has food and restaurants affected you as a person?
It has changed my life. From not thinking so much about food at all, to working primarily with food and wine – and planning all my trips based on that. My husband is a sommelier, so it's a lot of good food and wine in our lives.
On average, how many restaurants have you eaten at?
Oh my, what a good question! Maybe 700? Still – way less than Anders Husa.
What is your favorite go-to restaurant in Sweden?
Tjoget. For the ambience, wine, and cocktails. I enjoy their food, aswell!
Do you have a favorite restaurant outside of Sweden?
It feels like ages since I've been traveling. But I love many restaurants based in Copenhagen, the city have such a wonderful food scene! I can't come up with a specific one right now – but I share many good ones on my channels.
What is the best food experience you have had at a restaurant?
Daniel Berlin in Skåne, but unfortunately they have closed for now. Second on the list would be the three-star Michelin restaurant Frantzén in Stockholm.
And the most crazy one?
Noma in Copenhagen, for sure. Something completely different and not really my type of restaurant. It was both an expensive and interesting experience.
What is the best dish you have ever eaten – and why?
Must have been a beetroot dish at Daniel Berlin. It was a flavor bomb, and had so many amazing flavors.
What is your ultimate go-to comfort food?
Pizza I think. I always been weak for a classic neighborhood pizza!
Do you enjoy to cook food yourself – and If so, where do you get your inspiration from?
No, my husband always cooks for me and I get the luxury to choose what I would like to eat every day when he's not working.
What is your favourite type of kitchen in food?
Nordic cuisine.
What kind of drinks do you usually prefer to go with food?
Kombucha or wine. Preferably champagne.
What do you think is missing on the food scene today?
I would love to see a Mexican brunch place. And more restaurants in odd locations.
What projects are you cooking up on your own at the moment?
I try to focus on my website sthlmfood.com and my Instagram. But we'll see what happens after the pandemic.
5 quick ones
Coffee or tea?
Tea.
Sweet or savory?
I'm a sweet tooth, so I go for the sweet.
Plated food or finger food?
100% plated! I love finger food, but it always goes down way too fast.
Food or dessert?
DESSERT!
Truffle or parmesan?
Would love them both together, but parmesan if I have to choose.