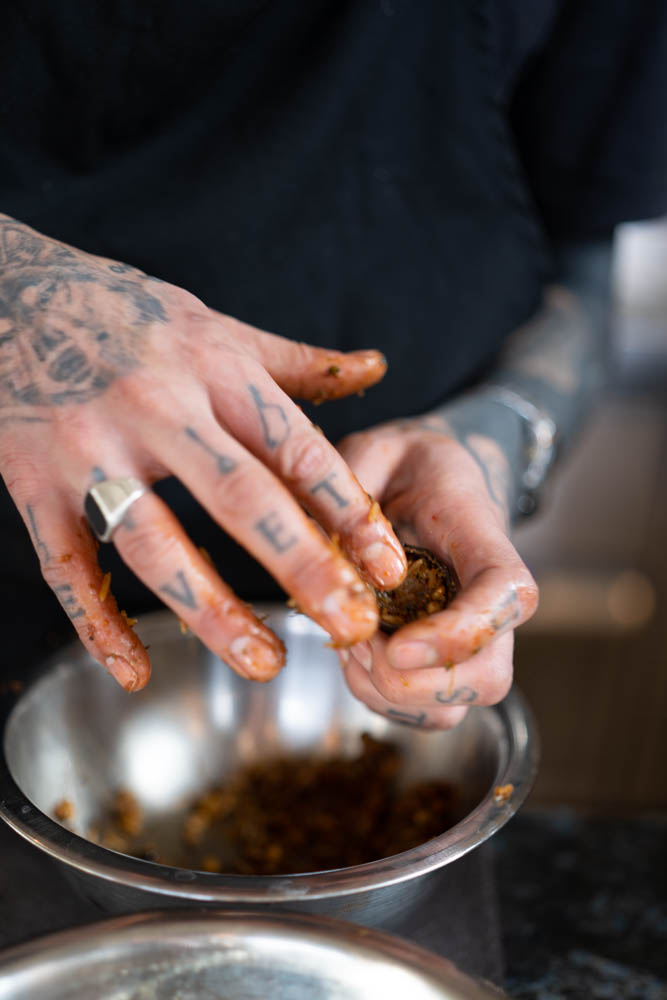 Recipe by: Sahin Erdal
5 people (2 dolmas/each)
Ingredients
10 dried pitted aubergines (bought pre-dried)
5 dl yoghurt
Pul biber
Dolma paste:
1 tbsp chopped rosemary
1 tbsp chopped thyme
2 tbsp chopped parsley
0,5 finely chopped garlic
0.25 dl tomato puré
0,5 dl water
Filling:
2 dl washed rice
1 st shallot, finely chopped
1 dl chopped and grilled pine nuts (save some for topping)
1 dl chopped sultan raisins
1,5 tbsp pul biber, sweet (Turkish chili)
0,5 dl olive oil
0,5 msk coriander seeds (mixed)
Salt
Browned butter:
How to
Aubergine dolmas:
Swell up the dried pitted aubergines in boiling water for 2 minutes.
Mix together ingredients for the paste. Stir around properly.
Mix rice, paste, nuts, raisin and shallots. Smaka upp with pul biber and salt.
Work in all the ingredients with the rice and mix a few minutes, then go in with olive oil and keep mixing.
Taste with more spices and garlic if needed. It should be a good punch in the flavours, taste continuously! The consistency of the rice should be a tad compact and shapeable in the hand, almost creamy. If rice feels dry – work in some water alternatively olive oil.
Let the rice rest for 5-10 min.
Taste and add some more of the ingredients if anything is missing, should be a fine balance between pul biber, spice, raisin and nuts. Sometimes a bit more garlic can be needed.
Smoked yoghurt:
Light a grill with firewood (preferably oakwood).
Pour over the yoghurt in a metal bowl.
When the grill is smoking – place the bowl on the grill and close the lid.
Let the smoke penetrate into the yoghurt for a while.
Browned butter with pul biber:
Brown the butter in a pan.
Spice up with pul biber to desired amount.
Serving
Put a dollop of smoked cream in the center of the plate.
Place aubergines with filling on top.
Pour over the browned butter and top with some of the grilled pine nuts.